Transforming Boys' Lives Through the Power of Music
Thank you for your interest in helping support the All-American Boys Chorus –a 501(c)(3) non-profit organization located in Santa Ana, CA. As the chorus celebrates it's 50th anniversary, we have a new commitment to building a sustainable organization with the capacity to have greater reach.
Sunday December 17 @ 4:30 pm
Red Hill Lutheran Church
13200 Red Hill Avenue
Tustin, CA
New Music Video with BYU Vocal Point and Laura Osnes
Countless Songs, One Voice.
The Voice of America and Its Future
The All-American Boys Chorus is founded on the belief that boys have the potential for greatness. It is remarkable to consider a child in this way but we know it to be true. With training and determination, a boy's voice produces a unique sound of unparalleled beauty that has been used for over a thousand years to entertain, uplift, and inspire.
California Center for the Arts, Escondido
SUNDAY, MAY 15 @ 2:00 PM
We're America's most beloved and internationally acclaimed contemporary boys choir
The mission of the All-American Boys Chorus is to empower and give voice to boys from diverse backgrounds in order to build self-confidence, discipline, leadership skills, and achievement through the transformative power of music.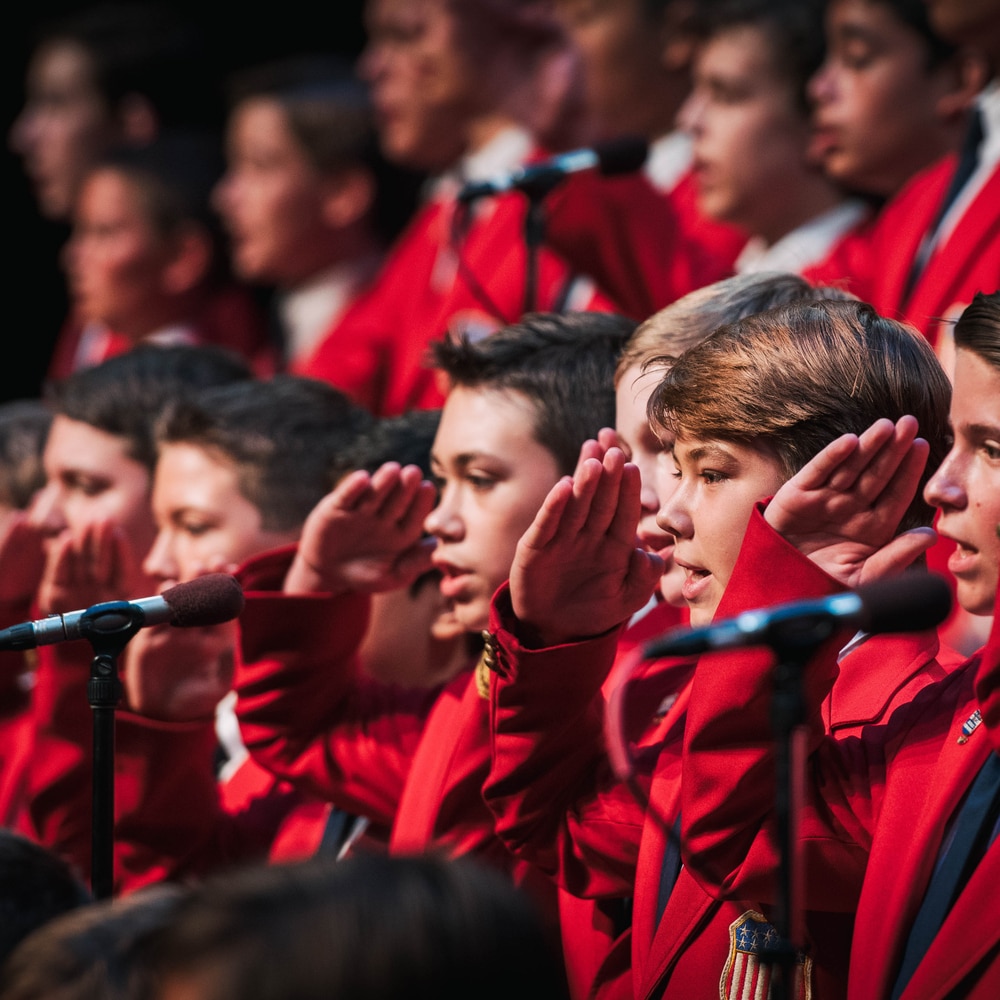 The All-American Boys Chorus, America's quintessential professional boys chorus, has delighted audiences worldwide for over fifty years. Based in Santa Ana, California, the Chorus is comprised of over 100 boys ages 8 – 15 drawn from throughout Southern California. Under the leadership of Artistic Director Wesley Martin, a veteran of Hungary's renowned Kodaly Institute, the Chorus provides boys with comprehensive musical training and unsurpassed performance and touring opportunities.
Explore The World
Travel The World Before High School

It is remarkable to consider that only boys possess this extraordinary gift, but perhaps even more remarkable when one considers that they possess it only briefly. For a narrow window of time, a boy's voice can be harnessed to uplift those who hear it and enhance the life of him who possesses it.
We Are the Only Boys Choir in Southern California!
We began in 1970 as a small church choir in Anaheim and have grown into an internationally-touring, non-denominational chorus that fosters the creative and leadership development of over one hundred boys each year. Our choristers come from 26 cities throughout Southern California, from diverse cultural and religious backgrounds and economic status. While our programs require a small tuition payment, no child is turned away and scholarships are always provided when needed.
Thank You To Our Season Sponsors!
Standing Ovation Sponsors ($25,000+)
Nguyen-Courtney Family Trust
Applause Sponsors ($10,000 - $24,999)
Accolades Sponsors ($5,000 - $9,999)