Shadow Day is a recruitment day for boys who are interested in singing. There are no fees or registration required – just a day at our Saturday Rehearsal to see if your son enjoys singing and is interested in joining this outstanding program.
The All-American Boys Chorus is a professional boys choir. Our headquarters are located in the Big Brothers/Big Sisters building. The Chorus is not affiliated with any particular school, religion, race, clubs, or other organizations and boys come from Orange, Riverside, and Los Angeles Counties.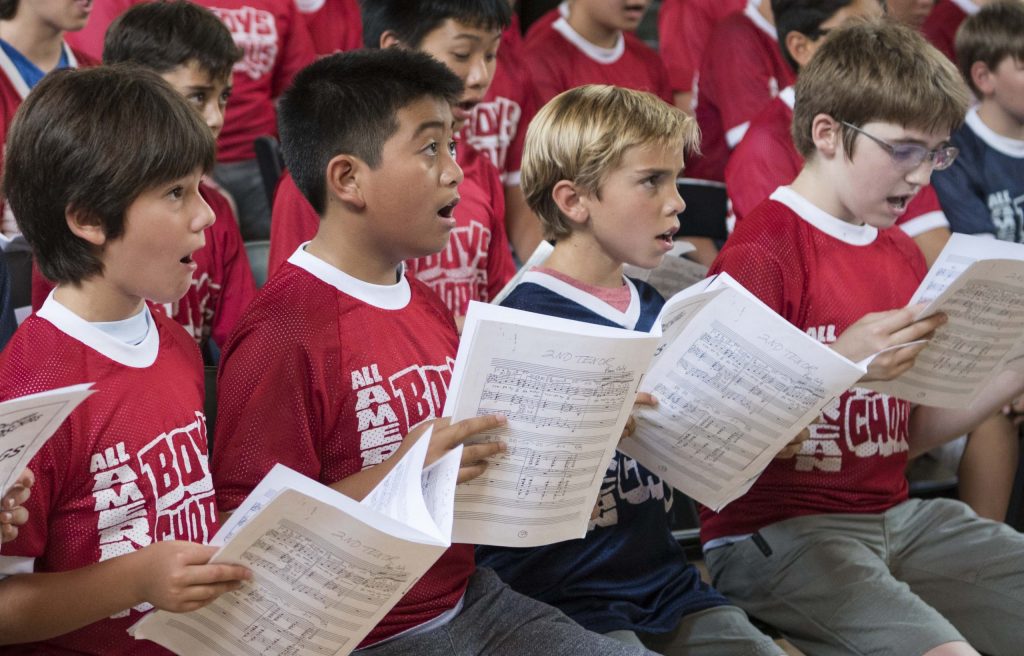 What Will My Son Do Today?
After receiving a name tag, new parents go on a short tour and hear a little about our program. Then your son will join the boys in a vocal warm-up in our very own Rehearsal Hall. He will be paired with a chorus member who will mentor him, show him around and take him from one "period" to the next.
He will participate in three "periods" from 9:40 am to 12:00 pm with all of the other boys. You son will get to participate in Music Reading classes, Sectional Rehearsals, and will have free time to participate in games and enjoying the food! A hot lunch, snacks, and drinks are free for all the boys on their first day!
The last part of their day (12:00 pm – 12:50 pm) will be our Grand Rehearsal where all of the boys will sing together, piecing together everything they've been working on throughout the day!
Parents and Families are welcome to stay the entire day to meet other parents and see the program, or they can leave and return for the last hour (12:00pm – 12:50pm) to hear the boys sing. You will not leave unimpressed!
Feel free to help yourself to complimentary coffee and tea, bring your own lunch, or enjoy one of our lunches prepared by our parent volunteers for $3 and drinks for $1 (cash only).
If you have any questions, ask any of our staff members (wearing dark blue shirts) or our alumni (wearing gray shirts).
If you and your son are interested in joining the Chorus, speak with Wesley Martin – our Artistic Director, after the rehearsal to arrange for a simple audition. Your son can start coming to our rehearsals on Saturdays – more information will be given to you at the time of his audition.
Feel free to call us any time to answer questions or arrange for an audition by calling us at (714) 361-3920 or using our contact form below.
Frequently Asked Questions
If you have any further questions feel free to contact our Artistic Director, Wes Martin – w.martin@taabc.org
"We are looking for boys who love music and love to sing.  No boy will be left behind due to financial constraints."
Wes Martin, Artistic Director, THE ALL-AMERICAN BOYS CHORUS
Interested in joining? Let's get in touch!